Mykonos

,

Cyclades

,

Greece

,

84600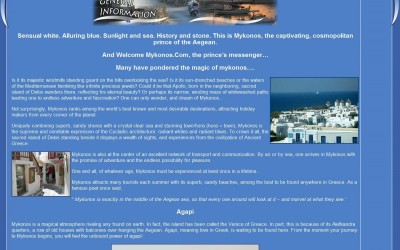 About mykonos.com
Sensual white. Alluring blue. Sunlight and sea. History and stone. This is Mykonos, the captivating, cosmopolitan prince of the Aegean.
And Welcome Mykonos.Com, the prince's messenger...
Many have pondered the magic of mykonos...

Is it its majestic windmills standing guard on the hills overlooking the sea? Is it its sun-drenched beaches or the waters of the Mediterranean twinkling like infinite precious jewels? Could it be that Apollo, born in the neighboring, sacred island of Delos wanders there, reflecting his eternal beauty? Or perhaps its narrow, winding maze of whitewashed paths leading one to endless adventure and fascination? One can only wonder, and dream of Mykonos...

Not surprisingly, Mykonos ranks among the world's best known and most desirable destinations, attracting holiday makers from every corner of the planet.

Uniquely combining superb, sandy shores with a crystal clear sea and stunning town/hora (hora = town), Mykonos is the supreme and inimitable expression of the Cycladic architecture: radiant whites and radiant blues. To crown it all, the sacred island of Delos standing beside it displays a wealth of sights, and experiences from the civilization of Ancient Greece.

Mykonos is also at the center of an excellent network of transport and communication. By air or by sea, one arrives in Mykonos with the promise of adventure and the endless possibility for pleasure.

One and all, of whatever age, Mykonos must be experienced at least once in a lifetime...