Mykonos

,

Cyclades

,

Greece

,

84600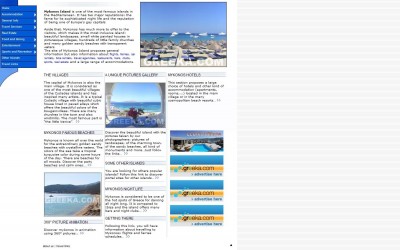 About mykonos-island.biz
Mykonos Island is one of the most famous islands in the Mediterranean. It has two major reputations: the fame for its sophisticated night life and the reputation of being one of Europe's gay capitals.

Aside that, Mykonos has much more to offer to the visitors, which makes it the most inclusive island: beautiful landscapes, small white painted houses in picturesque villages, hundreds of little family churches and many golden sandy beaches with transparent waters.
The site of Mykonos Island proposes general information but also information about flights, ferries, car rentals, bike rentals, travel agencies, restaurants, bars, clubs, sports, real estate and a large range of accommodations.